Profits & Income in a Transforming World
Dear Fellow Investor,
Of all the roads to investing success, this is the surest, safest and most rewarding: Buying and holding best in class companies that have hitched themselves to inexorable, irresistible long-term trends.

In my 35 years plus in the advice business, I've rarely if ever seen a better opportunity to do just that… by buying the high-quality utilities and essential services stocks that are driving America's historic transition to cleaner and cheaper energy resources.

Over the past 120 years, we've seen electricity, personal communications, in-home heating and water/wastewater service transform from luxuries for only the wealthy to universal availability. And the companies providing them have become some of the world's largest and consistently profitable enterprises.
Now these same companies are on the doorstep of yet another growth explosion, thanks to a favorable confluence of:
Rapidly declining costs,

Advances in data technology,

Unprecedented access to cheap capital and

Mounting environmental imperatives.
Up to now, utilities' potential has been greatly unappreciated and underestimated on Wall Street, and especially in the investment media. At best, many if not most investors treat them simply as alternatives to buying bonds.
Utilities and other essential services companies have been unable to shake their stodgy reputation as ossified relics of the first industrial revolution.

Ask yourself, when's the last time you heard a friend, colleague or relative brag about buying a "hot" utility stock? Up until recently, I could count the number of times I have on one hand—and with fingers to spare. And that's after more than three decades advising investors on buying the best essential services companies. But times are changing…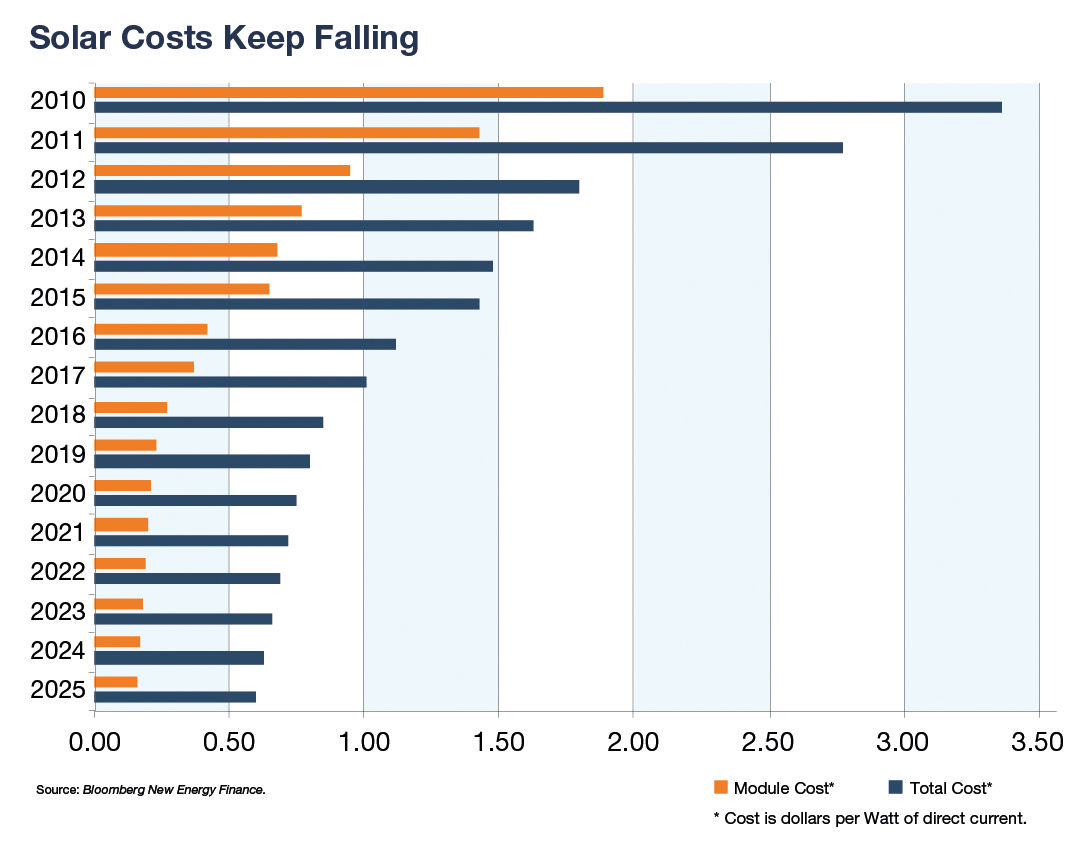 Did you know that the world's largest producer of wind and solar power is a US-based utility?
In fact, so are all the companies with the most to gain from this country's growing adoption of electric vehicles, advanced batteries, intranet sensors, robotics and automation, and artificial intelligence.
Similarly, the owner and operator of the world's fastest and highest capacity communications network isn't some "fashionable" Internet outfit, but AT&T, a company I recommend, that was established more than a century ago.

The global renewable energy champion is NextEra Energy. As you can see below, the stock has already rewarded investors with some quite impressive returns. The period shown starts from when I first recommended NextEra to Conrad's Utility Investor readers.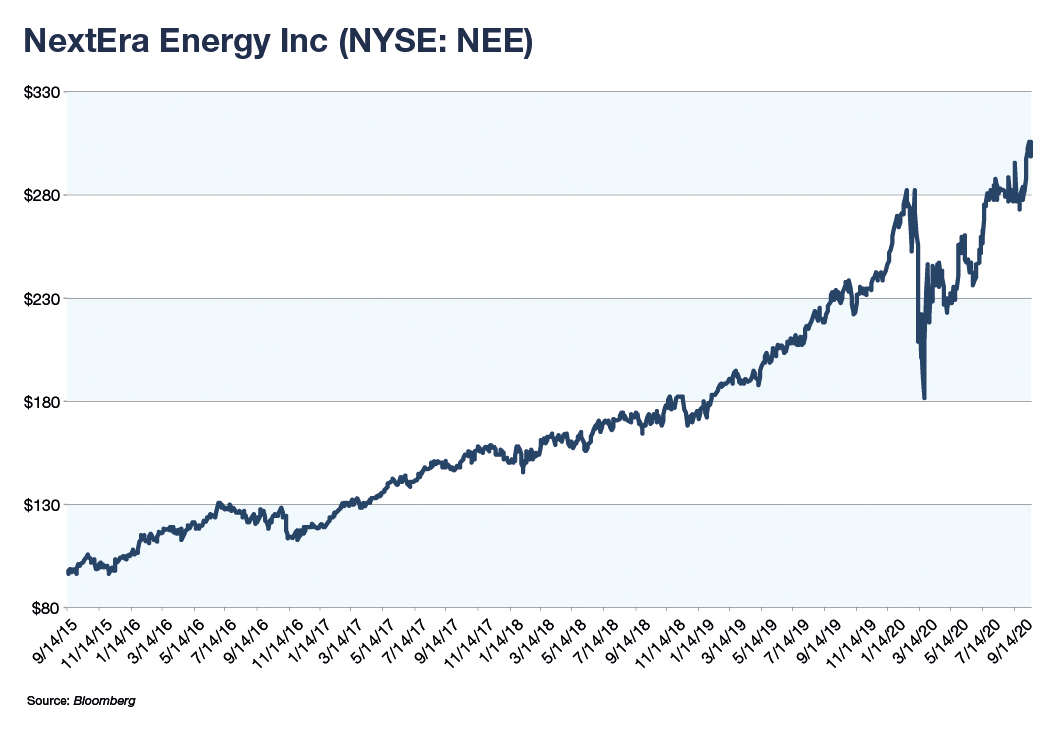 NextEra is only one of a dozen or so electric utilities poised to dominate the world's accelerating transition to cleaner sources of energy.

Today is clearer than ever that management teams have already figured out how to increase investor returns and dividends while moving to cleaner energy, while cutting customers' utility bills in the process.

That's what I call a virtuous cycle.

The real beauty is that the further utilities go down this road, the easier the going gets. Scaling up has always driven down costs and pushed up profits in this business. And it's doing so again as companies install more solar panels, wind turbines, energy storage and grid upgrades—while taking aging coal power plants permanently offline.

Moving to cleaner energy sources has also enabled companies to save millions in financing costs. In fact, the trillions of dollars now invested in "ESG" or environmental, social and governance funds is buying utility stocks and low interest rate "green" bonds as never before.

NextEra stock now sells for nearly 33 times expected earnings. That compares with nearly 24 times for the historically expensive S&P 500.

NextEra is an expensive stock for new buyers. But commanding that kind of premium price also means the company has a low-cost currency for funding any investment it wants, from building massive new ultra-efficient solar farms to acquiring whole companies.

That's making the company's potential takeover targets like Duke Energy more valuable, even as they deploy their own capital to build scale in renewable energy.

Duke just announced an increase in its five-year capital spending plans to a whopping $58 billion, with a further $65 to $75 billion planned for 2025-2029.

These plans ensure more than 7 percent annual growth in the utility's Carolinas and Florida rate base, which will drive robust long-term earnings and dividend growth. And the focus of that money is squarely on transitioning this traditionally coal-dependent company to renewable energy, including tripling wind and solar generating capacity by 2030.

Like NextEra and its affiliate NextEra Energy Partners, Duke's also a company I recommend to investors. Despite their explosive growth potential, these companies are also safe enough for even the most risk-averse investor to own. And while you wait on their capital gains to build, you're rewarded with generous and rising dividends as well.

Some of the companies that investors consider premier renewable energy investments now do not offer the luxury of steady income while "you are waiting for greatness."

That includes earnings-free Tesla Inc, which contrary to popular belief needed to raise almost $3 billion from outside sources in the first half of 2020, just to pay its bills.

Popular rooftop solar companies like Tesla's former affiliate SolarCity have also failed to develop a sustainable business model. And while there's potential for the largest—Sunrun—to get there, it will depend on the company evolving into an effective energy aggregator in California. The biggest beneficiaries if it succeeds will be its utility partners.

As for the developers and manufacturers of solar and wind turbines, they continue to benefit from a case of mistaken identity as technology companies.

In reality, they're manufacturers that are effectively locked in a race to the bottom with survival depending on developing ever-cheaper and more efficient components. And their chief rivals globally are much larger, better-financed and government-backed Chinese firms.

The harder these developers push down costs and drive efficiency, the more their profit margins will be squeezed—but the greater the benefit to utility adopters of wind and solar, as costs and customer rates drop, deployments accelerate and profits rise.

Not all of the stocks I'm recommending now for renewable energy growth are regulated utilities. I was one of the first to recognize the potential of Brookfield Renewable Energy Partners, which relies instead on a long-term contract business model.

Readers who followed me into Brookfield Renewable, have done every bit as well as those who bought NextEra. And they've realized a short-term windfall as well with the C-Corp shares Brookfield spun off to shareholders in late July this year.

Traded under the NYSE symbol BEPC, they're up better than 55 percent in barely three months.


At this point, both ways to own Brookfield are a bit rich for fresh money to buy. There will come a time when they'll be bargains again.

Right now, I have a half dozen other recommended companies that are using this same successfully proven model. And unlike Brookfield, they've yet to be discovered, so the lion's share of the upside is yet ahead.

These "next Brookfields" are also prime candidates for short-term windfalls from takeover offers. So are several dozen of the small to mid-sized electric utilities I track in Conrad's Utility Investor.

For example, in the first half of 2020, members of Conrad's Utility Investor reaped windfall gains from the acquisitions of two more of my recommendations: Pattern Energy and TerraForm Power. I expect similar deals going forward, and at an accelerated pace at that.

Two other key strengths my renewable energy recommendations have in common: All of them pay generous and growing dividends, and each has demonstrated the strength of its business model in this pandemic-riddled year.

As an investor, I don't have to tell you 2020 has been a very wild year for the stock market. Like certain segments of the overall economy, some sectors have enjoyed a clear "V" shaped recovery from the losses of February and March.

But for other stocks, the shape has better resembled an "L," with gains coming only very slowly and with much ground yet to be made up. And still other stocks—those most affected by the pandemic and its fallout—have looked like a "K," with the pace of losses resuming as summer turned to autumn.

Investing well in this environment has required being nimble. And that's been true even if your appetites lie more with buying and holding best in class companies.

The three-part portfolio strategy I highlight in every issue of Conrad's Utility Investor is to first sell weakening businesses, second take partial profits on temporarily overvalued and over-weighted stocks and third use cash saved to buy high quality stocks when they hit preferred entry points--especially "Dream Buy" prices that always indicate special and unique buying opportunities.

Following my three-part strategy enabled us to cash out a portion of our NextEra Energy in the $280 per share range in late February/early March, buy back in at less than $190 just a few weeks later, and then ride our position north of $300. And we did pretty much the same thing with a Baker's dozen other high-quality essential services companies, including Brookfield Renewable.

One big reason I had the confidence to make those calls and not just run for the hills is the fact that renewable energy adoption isn't just a driver of utility earnings for the next quarter or the next year. It's, for all practical purposes, a guarantor of growth for the next couple of decades.

All the winners have to do to cash in is to make a plan to replace their coal with wind, solar and storage. They then need to win approval of that plan from regulators, which is a lot easier than it sounds right now, because of the public's appetite for cleaner electricity and lower rates.

Finally, companies need to execute their plan in an extremely favorable environment, where costs of deployment are falling rapidly, and access to low cost capital continues to improve.

All we investors have to do is seek out the best in class companies to bet on this trend, buy their stocks at the lowest possible prices, and wait for the capital gains to build, even as generous and rising dividends steadily roll in.

If history is any guide, some players will falter along the way, and as a result will no longer be good investments.

An unlucky few may be hit with unprecedented natural disasters. Management may commit errors that run up the cost of certain projects, or the regulatory climate could shift for the worse, with unscrupulous politicians becoming utility bashers to win votes.

Whatever the case, investors will want to switch horses before losses become too great to recoup. And that's where a resource like Conrad's Utility Investor can be just as valuable as it is helping to pick out the best buys.

For the past three decades plus, I've followed what I call a "Quality plus Value" approach. Here's how it works:

Our 5-factor Quality Grade system identifies the best in class from the nearly 200 companies in our coverage universe. We buy them at the best possible prices, using our formula comparing valuations with projected returns.

We then ride our favorites' reliable earnings growth to higher income and powerful capital gains. And we'll occasionally sell part or all when prices reach truly stratospheric levels, or if businesses underperform.

I admit not all of the recommendations I've made in three decades plus doing this have worked out. But I've also learned the hard lesson to never just hold and hope, not for myself and especially not for our members.

My standard is to treat our members' money as if it were my own, or better still my now 93-year-old mother's.

That's how I've done business throughout my career, the last seven plus as editor and publisher of Conrad's Utility Investor. And it's how I intend to keep operating, Lord willing, for the next 35 years, when I'll be about the same age my gardening enthusiast mom is now.

You may not have fully invested in stocks that enjoyed a "V" shaped recovery this year. And you might own more than a few with price charts better resembling and "L" or even a "K."

But I can say with assurance you haven't missed out on the much bigger opportunity ahead—as some of the strongest companies in America execute their multi-decade transition from the energy of the past to the energy of the future.

For the best in class utilities and other essential services companies I recommend, the upside is at least as explosive as their gains during the last bull market.

Sound like something you'd like to get in on? Then please check out Conrad's Utility Investor, with a trial subscription of $499.

By joining us now, you'll never pay more than that price, provided your subscription stays up to date. It's what I call our forever guarantee.

And if you're not satisfied? —No problem. Cancel any time in your first 60 days and get your full membership fee back.

That's the risk free guarantee I'm making as publisher of Conrad's Utility Investor, and as an advisor whose word has been his bond for more than 35 years in this business.

Thank you very much for reading.

Here's to your health and wealth!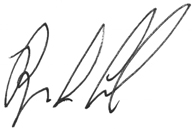 Roger S. Conrad
Editor and Publisher
Conrad's Utility Investor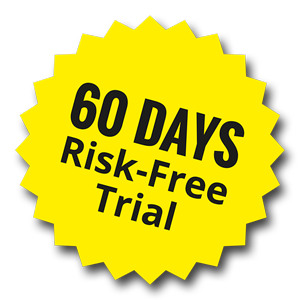 Take advantage of our risk-free 60 day trial! No questions asked. Prefer to order over the phone? Call customer service toll-free at 1-877-302-0749
DISCLAIMER: Capitalist Times, LLC is a publisher of financial news and opinions and NOT a securities broker/dealer or an investment advisor. You are responsible for your own investment decisions. All information contained in our newsletters or on our website(s) should be independently verified with the companies mentioned, and readers should always conduct their own research and due diligence and consider obtaining professional advice before making any investment decision. As a condition to accessing Capitalist Times materials and websites, you agree to our Terms and Conditions of Use, available here, including without limitation all disclaimers of warranties and limitations on liability contained therein. Owners, employees and writers may hold positions in the securities that are discussed in our newsletters or on our website.
© Copyright 2020 Capitalist Times, LLC